A one-of-a-kind idyllic artists' retreat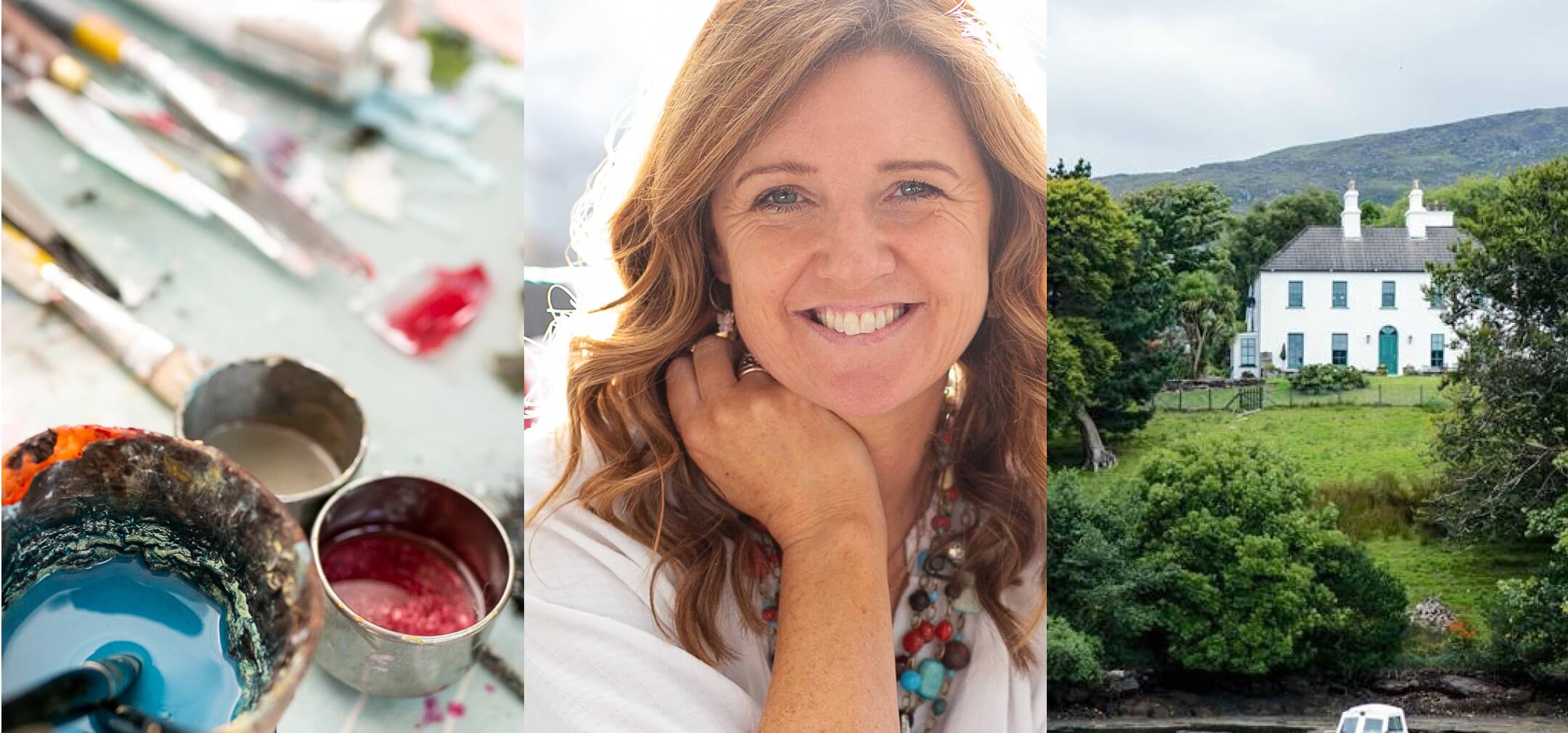 You love to paint. Or you used to love to paint before you got too bound up and critical of yourself or before the distraction of the last few years got in the way.
Or maybe you are yearning to take your creativity to a deeper level, to a step forward toward something new?
You know that if you had time free of distractions and filled with inspiration, you would find your way back to that place.
Or simply rediscover your voice.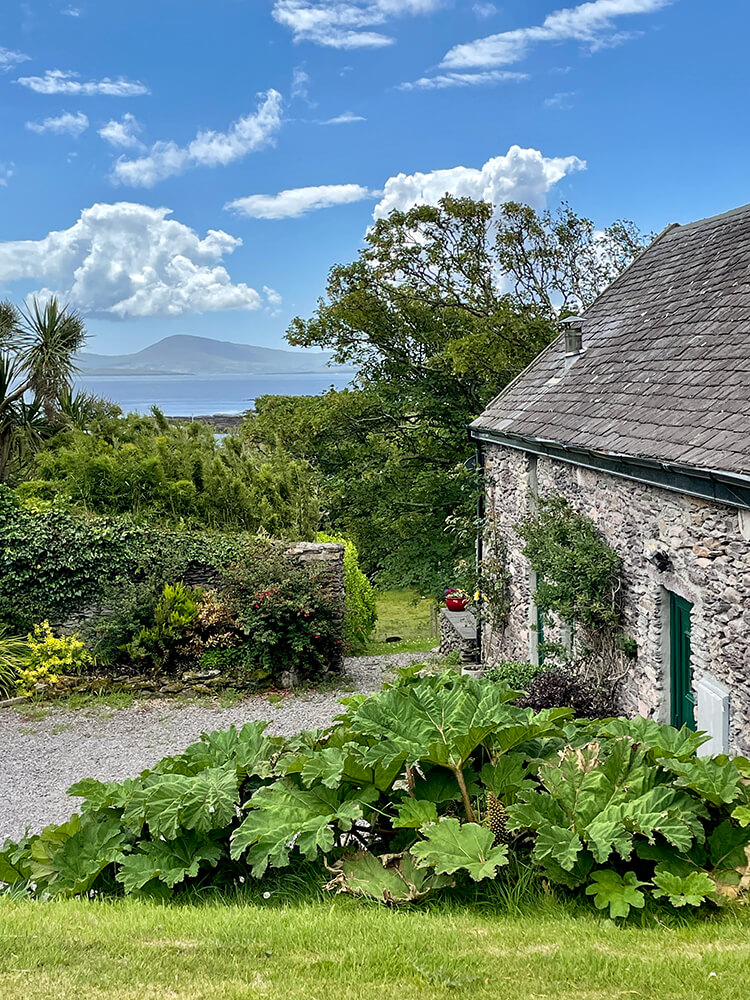 You know what would be extra delightful?
A smart circle of women to laugh with. How about heart-fueling, creativity-expanding painting sessions to tame the critic and charge you up with inspiration and amazingly helpful take-home tools to move your technique on and develop your painting practice?
Why not add daily inspirational sessions where Ró combines poetry and a little of her gentle philosophy with strolls by the ocean, an unforgettable creative pilgrimage walk, healthy delicious food, and and and…
Sound kinda perfect? Great!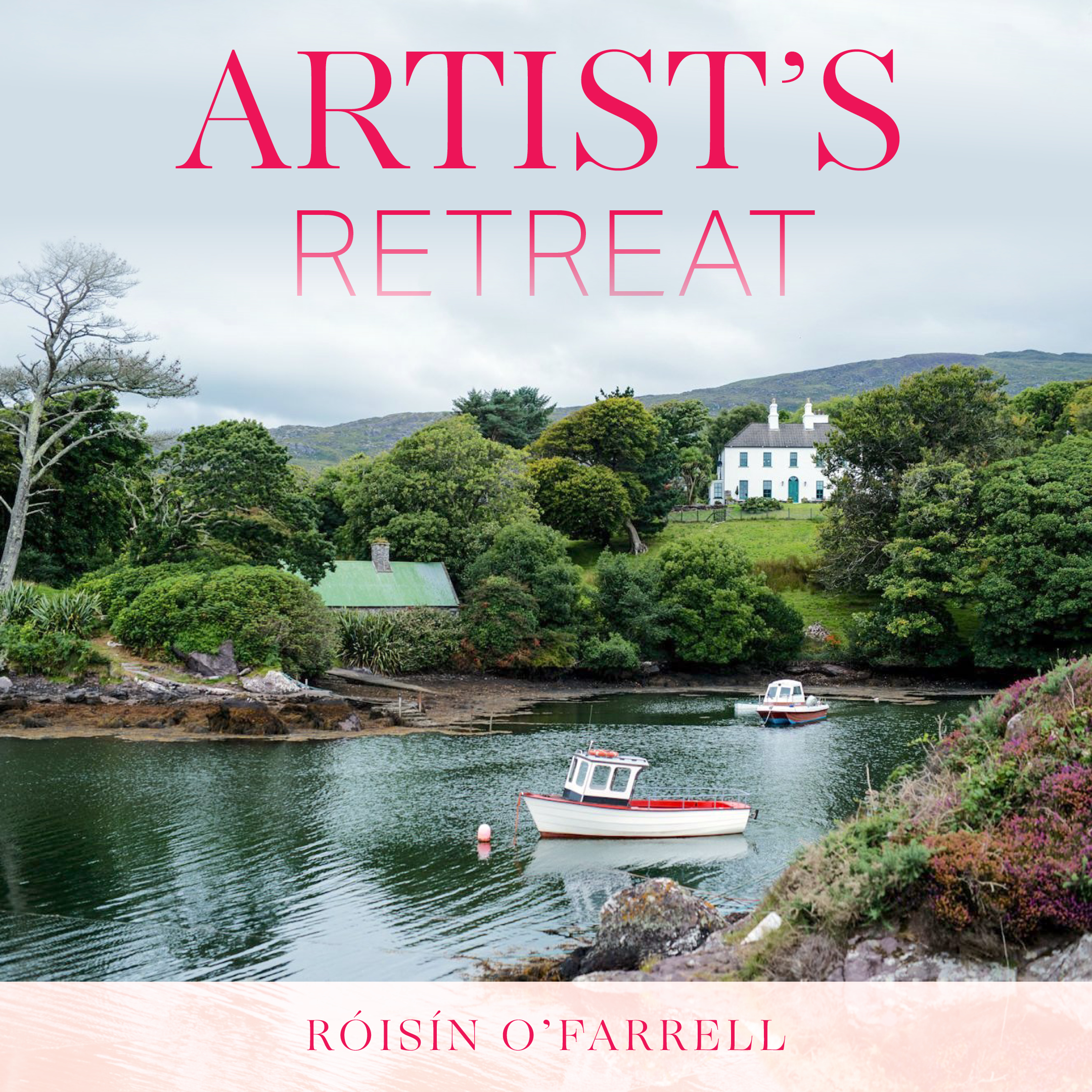 to a one-of-a-kind idyllic artists' retreat
A nurturing blend of painting without expectation,
Breathing life into your creativity,
Eating and drinking well,
Swaying to the music and
Allowing yourself to be looked after, for a change!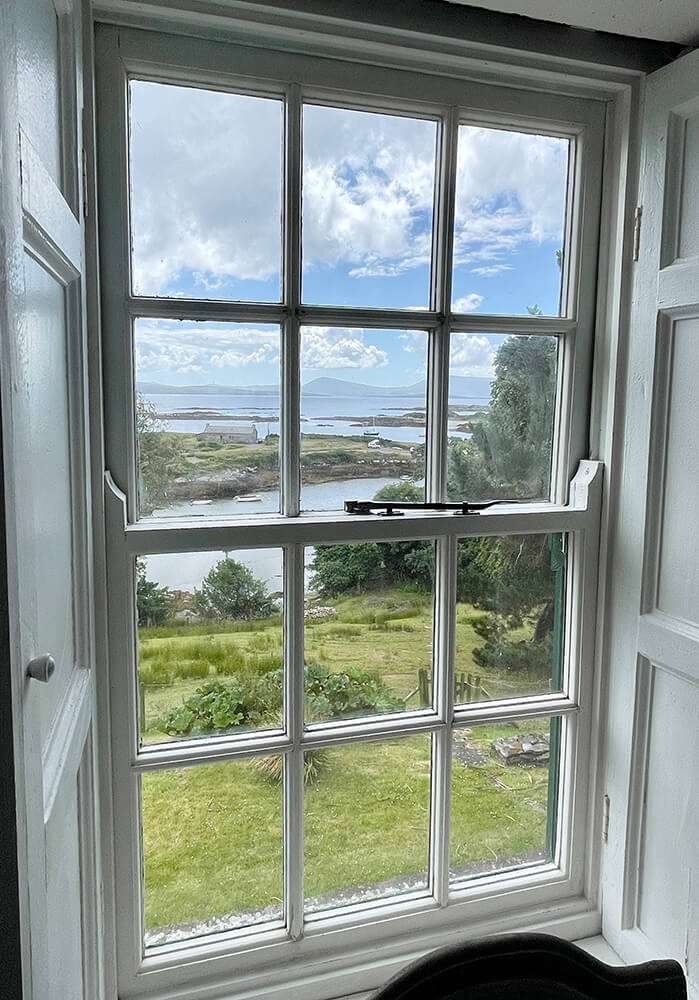 Waking up on the wild Atlantic coast of Ireland. Overlooking the stunning Kenmare estuary on the southernmost point of the 'Ring of Kerry' with the ocean as the backdrop to inspire your paintings and rejuvenate your creative energy.
Creative growth needs time for you to simply be. Not to be poked and harassed into motion but nurtured and released into calmness. If you feel that's what you need, then my artist retreat will hold that space for you.
They say that there are places in the world where the distance between heaven and earth is tissue-thin. I have sat in this place in the early morning and I believe that to be true here, that the quality of this space has the ability to restore and invigorate.
A characterful Georgian period property reserved exclusively for our retreat.
Our own chef, preparing healthy, delicious meals served in the elegant dining room.
An unforgettable creative pilgrimage over ancient spaces and windblown shores
Sea swimming for the brave.
Tuition focusing on landscape painting.
Overlooking the stunning Kenmare estuary on the southernmost point of the 'Ring of Kerry'.
Irish Music, Pubs, Poetry & Craic.
Sunsets overlooking the water.
Daily invitations to set the possibility of the day and inspire
and lots of painting in our own dedicated painting studio with one-to-one attention and group tuition with Ró.
A completely new experience with Ró
If you have previously studied with me, this retreat will offer a progression in its tuition and will focus on landscape work, rather than on still life. How could we not, in such a beautiful place?
The retreat is designed for people from a wide variety of disciplines and skill levels, from beginner to professional. The sole prerequisite to attending is an openness to being inspired, growing creatively and a willingness to explore your artistic practice.
Tuition will take the form of several studio sessions where I will focus on teaching exercises to help you:
craft better landscape compositions - the key to strong paintings
simplify values in landscape work - to avoid bitty confused paintings
use dynamic design - to bring drama to your paintings
atmospheric perspective - to create a sense of depth
amplify your focal point - using leading lines, sharpness and diverse line
and learn how to create great paintings from your own less than professional photos.
Complete the exercises outside in the beautiful landscape, using the simple materials kit provided.
If you are working on something new or want to develop some ideas this is the perfect time and place to do so with encouragement and constructive criticism from Ró.
If you would like to paint En plein air, you are welcome to bring your full En plein air kit and paint any of the countless views.
Although there will be tuition, this is a retreat, not a course, so this will be a different kind of week with me. There will be time to rejuvenate and inspire by doing other things as well as painting.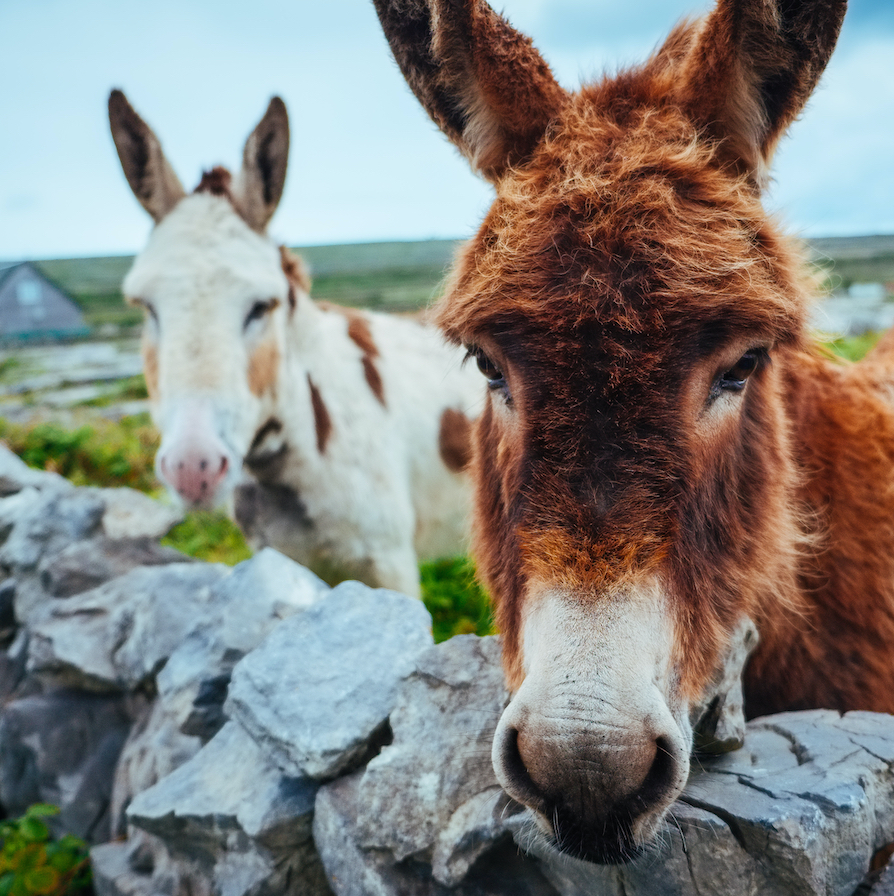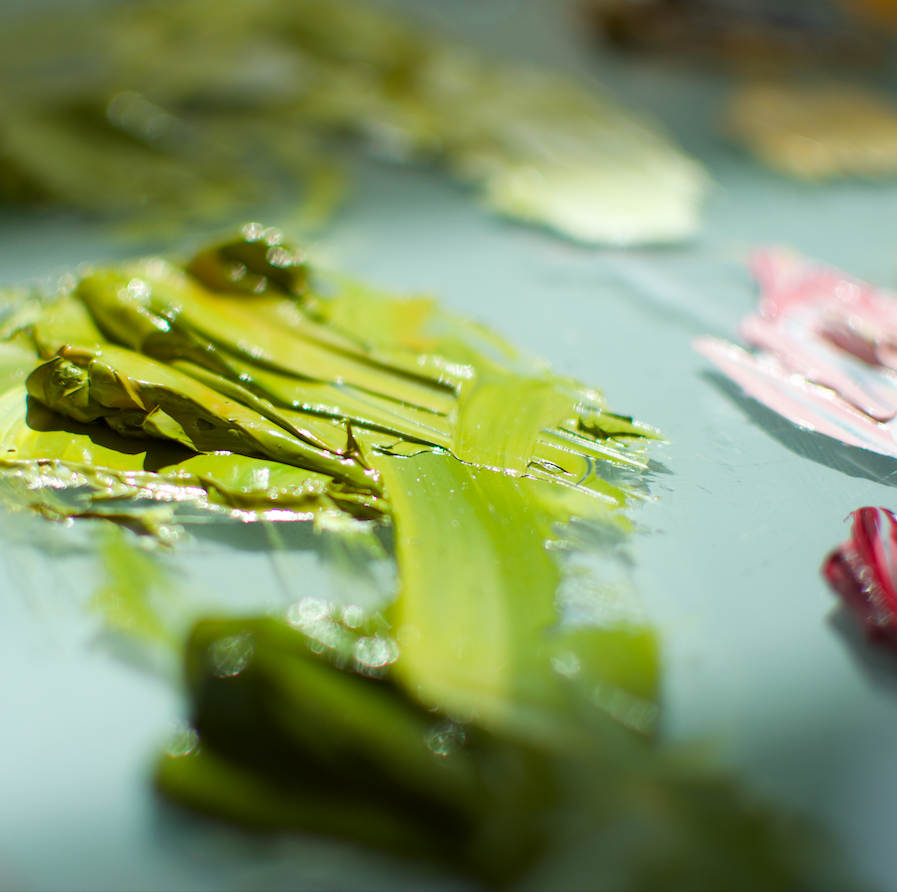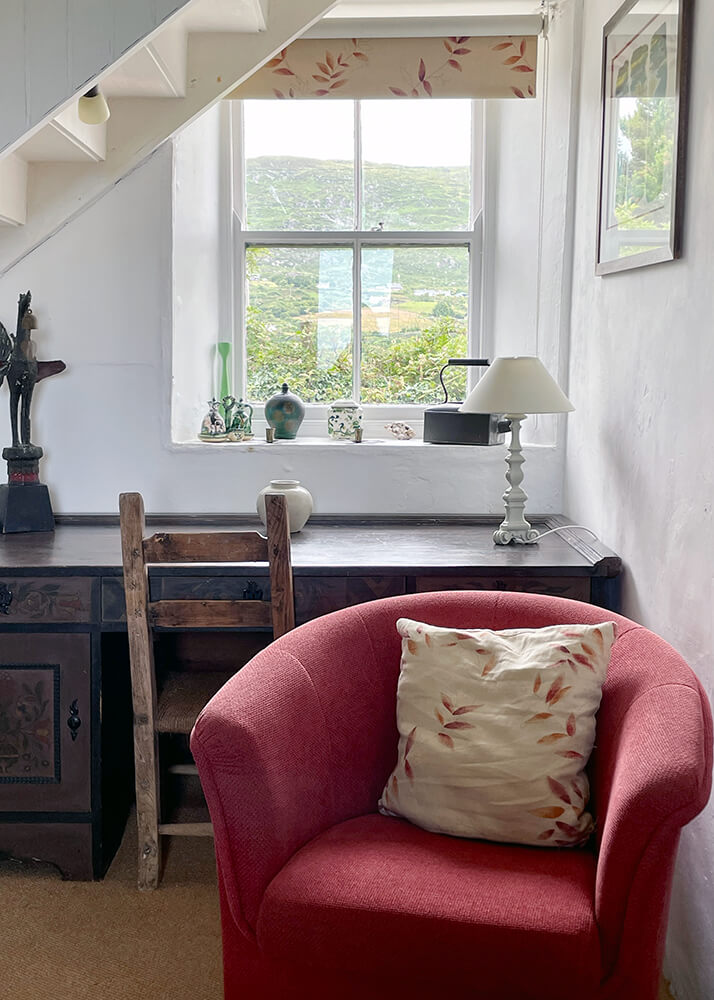 Everywhere you look is a painting waiting to be painted
As for inspiration, you literally only need to look up! Every way you turn your head, 360 degrees, there is a beautiful composition ready to paint or to photograph to paint later.
Around the house, there are buildings with interesting shapes to work from and inside there are characterful windows and nooks and hallways if you fancy getting stuck into an interior or too.
We will also be tending to the rest of our creative hearts, mind and body with good food, great music, poetry and laughter. The best medicine of all!
Roisin's ability to communicate and get on the level of each of her students was amazing to me. Roisin came prepared to teach and that she did, she knew everyone's name and something personal about each one of her students which made her easy to be with and she put me at ease from the minute I walked in.
I've done her online love to paint course, but the difference is seeing it in person, makes such a big difference, having Róisín on hand to demonstrate was brilliant as I felt I was able to absorb it better. Being able to share and have art conversations with like-minded people, is uplifting for the soul and meeting the friends in person that I've connected with on the online course.
Sun June 11th – Friday, June 16th
Each day will begin with a short session to set the invitation for the day, establish loving-kindness toward ourselves and create space for fun and laughter. After that, the each day will vary, but will include some or all of the following elements.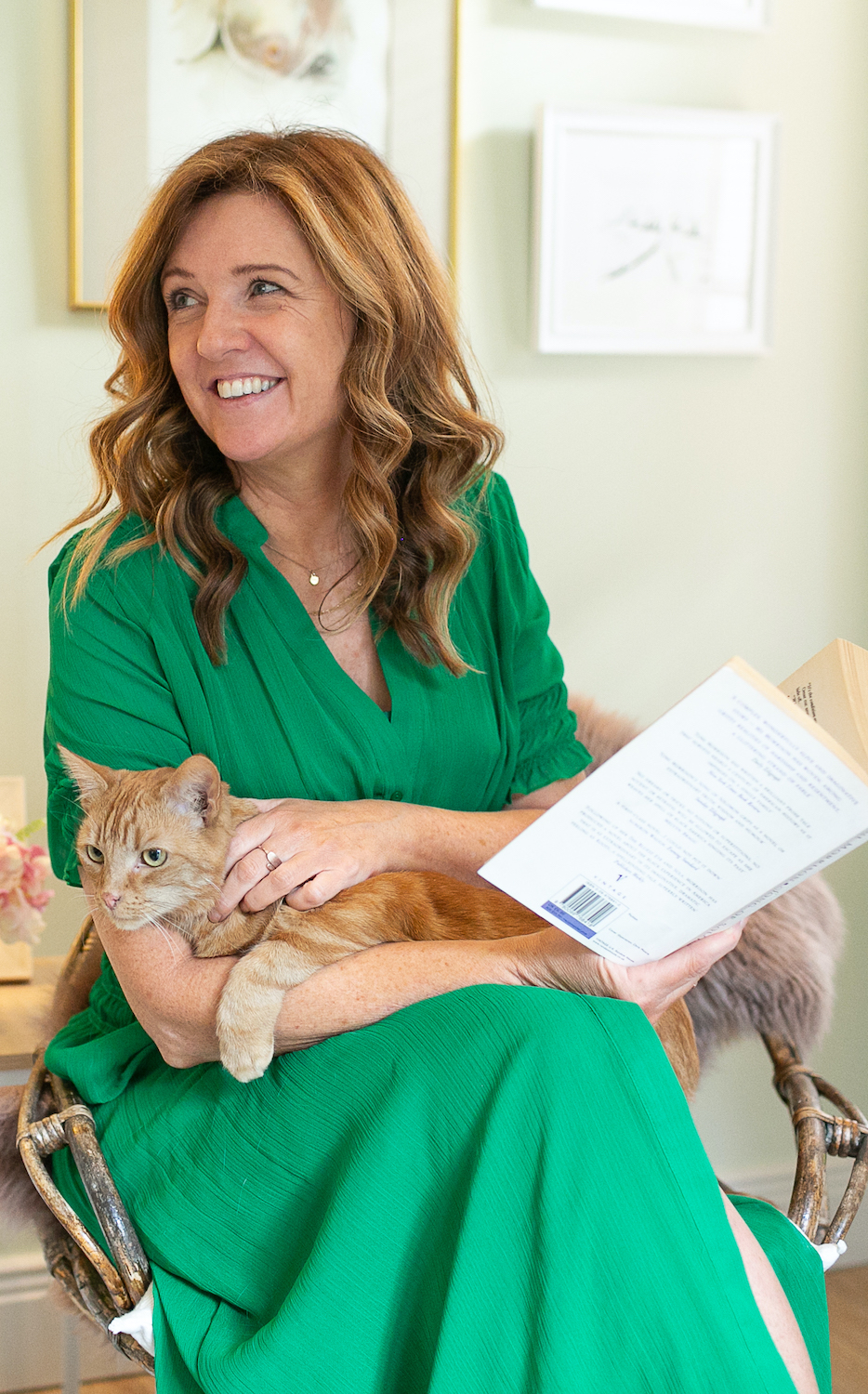 Teaching sessions in our dedicated studio space.
Time outside in the beautiful landscape to paint, sketch, or develop your technique and ideas.
Live painting demonstrations with Ró
Poetry and Craic sessions - to align with the day's invitation.
Visits to beautiful Irish villages with Irish music & pubs.
Time to rest, walk, sea swim, shout into the wind and find yourself!
And most importantly plenty of time for fun.
Picture it: No cooking, No cleaning, No chores.
Now, replace those responsibilities with: delicious fully-catered meals, late-night chats, early morning dips for the brave, happy gal pals in great moods, secrets shared beneath the stars, not to mention the amazing learning experiences for both body and mind.
This trip will be about joy, beauty, and the power of your creative spirit.
This is an all-inclusive trip. Simply nothing to worry about from start to finish.
Cosy and calm private rooms so you can have space to rest and sleep well. (We also have a limited number of shared rooms)
Delicious, healthy meals (Breakfast, Lunch and Dinner), served in our own elegant dining room. Those with dietary requirements are welcome.
Dedicated studio space to paint, during class and outside of class time.
A full programme to include:
All tuition from Ró,
Painting sessions,
Group poetry & craic sessions,
Group visit to beautiful Irish village with Irish music & pubs,
A creative pilgrimage led by Ró,
Full Art material kit for your studio sessions so no need to worry about travelling with paints, canvases or solvents, to include:
oil paints, solvents, canvases, easels etc. and a simple kit for doing outdoor sketching and exercises. (Materials not inc. brushes, knives & sketch pads or En plein air set*)
Two live sessions before the retreat and a private FB group open before, during and after the event so that everyone will already have become relaxed with each other even before they arrive and can stay connected afterwards.
Transport for all group activities is provided
There are local taxis should you wish to nip to the village etc.
This will be a small intimate group event, with limited places.
Optional trip two days
Would you like a little more time? To rest, to paint or to allow me to introduce you a little more to this beautiful part of the world?
I am delighted to offer you the chance to extend the retreat by two days. A rest day/free painting day and a second guided sightseeing day curated and lead by me. Accommodation and food, sightseeing tour, and music are included in the separate fee.
Travel Guide
I know that travel is more complicated these days. I have been traveling a lot this year and my team and I have a lot of experience that we would like to give you the benefit of. From which airport to choose, support in booking airport transfers, where the nearest village is, right down to what to clothes, technology and documents pack. No need to do anything we will send you our guide when you book.
We want you to know what you can expect and where we can, we will support you every step of the way.

Airport transfers.
We can help with arranging transport to/from Cork, Kerry and Shannon airports. We can also help you with sharing a taxi/bus to keep the cost down
Your materials are included and will be listed.
They are for studio use only and do not include En plein air materials or kit for En plein air. You are welcome to bring these if you would like to and we can provide you with solvents.
Alcohol is not included, however, you are welcome to bring alcohol or pick some up locally. I'll definitely be sharing a wee glass with you all.
Any additional transport outside of group activities.
There are local taxi's if you fancy an extra trip to the pub, town or elsewhere.
Please note that we are not able to guarantee en suite bathrooms. Bedrooms are rustic and cosy and vary in size and location on the properties.
You may be responsible for one lunch or dinner. We will let you know closer to the time.
Peace of mind from start to finish
I know the normal flow of things has been disrupted in the last few years. Joining things again might look great on paper but in practice, it can be a slower affair.
For instance, an artistic retreat might sound like just what you need but the idea of going alone, with people you may have never met before? Not so much!
So, I've come up with a cunning plan for the small group of us attending my Artistic Retreat. One that would reassure me if I was going.. Which I am! Pre-Retreat bonding session
This will also happen on zoom and will be facilitated by me. It will be a fun and relaxed session to get to know each other and put names to faces so that when you arrive will already know everyone a little bit. Pre-Retreat travel Q&A
Facilitated by me on zoom, will be a chance to chat about practical things like what to bring, how to getting there, what to expect and anything else you'd like to talk about. So you won't have anxiety about travel, packing, and all that practical stuff. Constant contact when you need it
You will have the option to join our retreat WhatsApp group before the event so you will always be in contact, while traveling, at the event and afterwards to keep in contact with your gal pals and have a way to connect with me, the team and everyone in the group. Welcome dinner in the elegant dining room
On our first night together we will have a special, warm and welcoming dinner together (fully catered and served to us) to give us a chance to further get to know each other, settle in relax and get the fun started. Private space
We are offering private rooms (there are a small number of shared rooms available) where you can rest and relax away from the fun whenever you need to. You are also free to opt out of any activity if you need a little quiet time for yourself.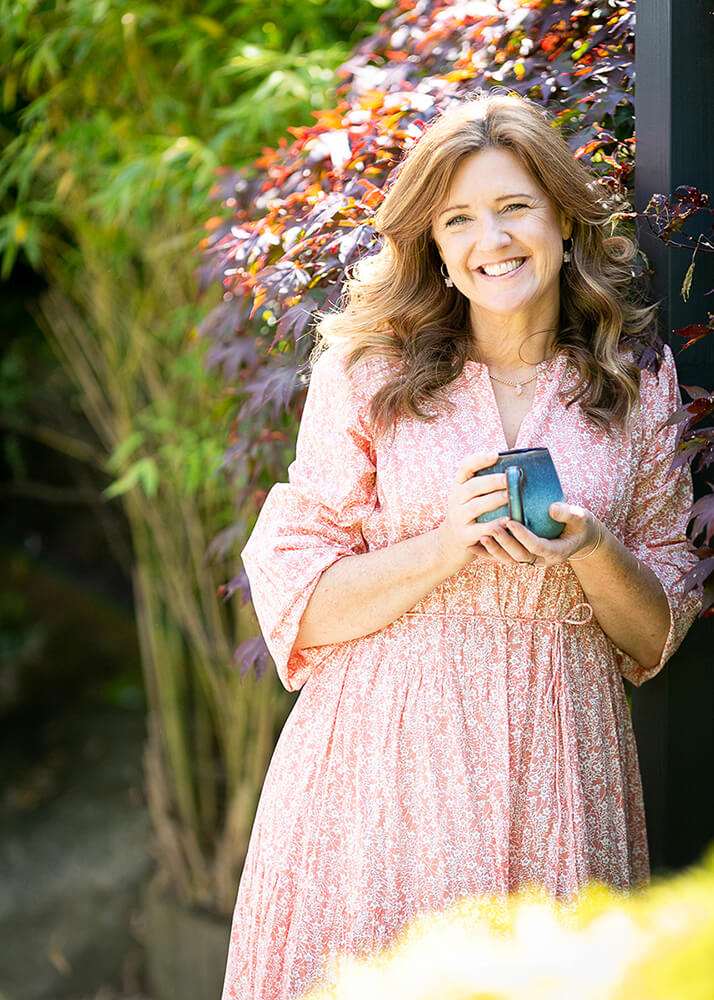 Róisín is not just an artist. She has a special gift for caring and encouraging and many years of experience in giving workshops and teaching.
From the serious business of passing on the tradition of creativity to the simple joy of painting, Róisín is committed and passionate about teaching, sharing and living creativity.
Although many artists will attend, you do not have to be an experienced artist to attend or enjoy the retreat. It will be a down-to-earth, inclusive experience, designed to bring people together for the joy of painting, some serious learning and good company.
Róisin's has been teaching workshops for over a decade, with many attendees returning year after year.
I can honestly say that Róisín's course has completely changed the direction of my life. She has given me the confidence I needed to just simply go for it. I am proud to now call myself an artist and I still can't quite believe how well things are going. The time she takes with people, her generosity to share, and her guidance. There are not many things I can say that have so clearly changed my life but this course and her guidance definitely have.
I personally had lost all my creative confidence and had so much fear and anxiety to get through. I can't really begin to tell you how much it means for me to physically, emotionally and intellectually enjoy and engage in the creative process once again and finally be able to call myself an artist again. Love and gratitude.
It's time to let go of your mind and let inspiration take over.
This retreat is an investment in you, in your dreams for you, and honestly, you frickin deserve it!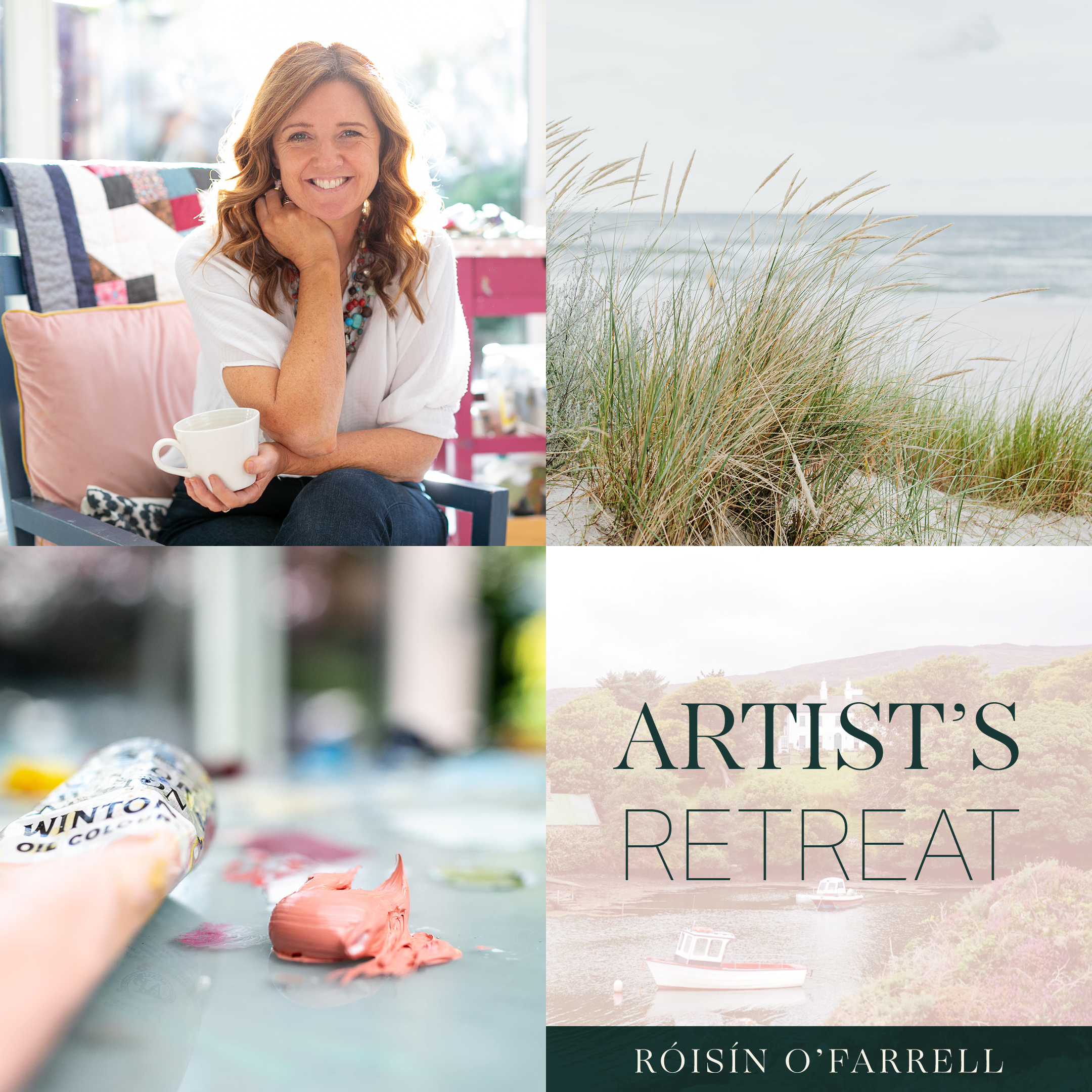 The laundry can wait—you can't.
You'll be thanking yourself if you do and kicking yourself if you don't.
Are you ready for a life-changing celebration of your creative soul? A feast for the mind, body and spirit during an all-inclusive, idyllic short week in one of the most beautiful places on the planet? And all within the company of an intimate group of other amazing women just like you who are up for the same? Private room
All-inclusive fee €4,250 euro.
Non-refundable deposit of €495 taken at booking
Payment plan €480 x 8 months begins one month after booking.
Shared room
All-inclusive fee from €3,750 euro.
Non-refundable booking fee of €495 taken at booking
Payment plan of €420 x 8 mths begins one month after booking.
N.B. very limited shared rooms
Please note the rooms vary in size, location and bathroom facilities and are offered on a first come first served basis strictly at the discretion of the organisers. If you have any particular requirements, please do let us know.
The retreat is best suited to those who can manage stairs and walk outside on track like pathways. Westcove House is a Goeorgian property and as such is not suited to wheelchair users. As to those with mobility issues it has a few steps both at the front and back entrances and there are 3 steps to the one downstairs bedroom in the main house. The Stables has a very small "step" and there is one downstairs bedroom. The painting studio up a narrow stairs, so could be a problem for access those with mobility issues. Cancellation Policy
If YOU have to cancel: Refunds are not available unless we can rebook your place. Please note that the closer we get to the event, the less likely we will be able to find someone to replace you.
Proof of travel insurance to include Covid, which covers your costs including the retreat, is required.
If YOU cancel, but we can refill your spot: You will be refunded everything you have paid minus your non-refundable deposit of €495.
If WE have to cancel: We will refund everything you have paid minus your non-refundable deposit of €495. Covid Policy
In the interest of making an event like this happen as safely and efficiently for all those attending, participants will be required to be vaccinated in order to attend. We will all be travelling, in addition to dining and touring in buses together etc. and some may have health issues so it is important to protect each other as best we can.
You will be required to show proof you are vaccinated by email. We will also accept a certificate/document of recovery to prove that you have recovered from COVID-19 in the 6 months prior to travel. However, you can not book a place without either proof of recovery or vaccination.
Masks are not mandatory in Ireland, but you are welcome to wear them if you wish.
It is your responsibility to make sure you have any necessary documentation to enter the country.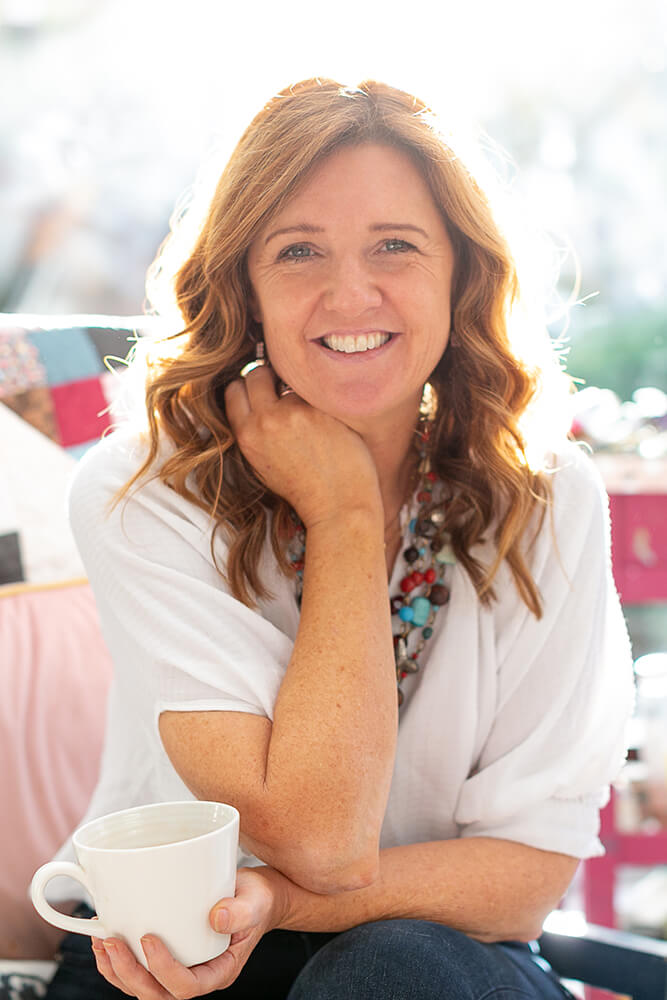 This is for you
If you love to paint
If you love to laugh and grow your creative heart
If you like to eat and drink and sway to the music
If you love to be touched by poetry and shout into the wind
​​However, I only want you to come if you yearn to make a loving, creative commitment to yourself and co-create this space together. We will be setting one foot after another through the days while contemplating our individual futures, emboldened by words and thoughts and by food, wine and good company: a good holiday and a necessary creative pilgrimage in one remarkable experience.
Roisin's ability to communicate and get on the level of each of her students was amazing to me. Roisin came prepared to teach and that she did, she knew everyone's name and something personal about each one of her students which made her easy to be with and she put me at ease from the minute I walked in.
I've done her online love to paint course, but the difference is seeing it in person, makes such a big difference, having Róisín on hand to demonstrate was brilliant as I felt I was able to absorb it better. Being able to share and have art conversations with like-minded people, is uplifting for the soul and meeting the friends in person that I've connected with on the online course.
I would just like to say, no words can express the gratitude I have in my heart for you to have been placed in my path, bringing me by the hand down a road of brightness, leaving my darkness behind me, I'm in awe of how much you've generously shared with us as an artist, as a poet, as a teacher and as a friend who cares, .. keep painting, definitely keep teaching ( and saving more lost souls in the world).. I will never, never forget what you have done for me and my family ... they are so glad to see me smiling again, even if it means I've forgotten to cook some days ☺️